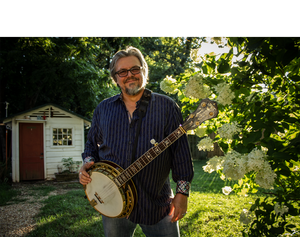 Bio
Scruggs'-style banjo picker "The Rev" Jeff Mosier, one of the earliest music pioneers who merged bluegrass instruments and traditional tunes with the magnetic energy of rock and roll, founded the jamgrass band Blueground Undergrass (BGUG) in 1998 after years of crafting his banjo skills in various bands, playing everything from bluegrass with his brother Johnny (Good Medicine) to experimental rock (Col. Bruce Hampton and the Aquarium Rescue Unit) to jazz-fusion (The Ear Reverents). Blueground Undergrass, the band he fronted for more than a decade, recorded four albums and built a sizable national following by combining bluegrass purism with a jam band sensibility. Later, as the jamband scene became more jam-tronica and less roots-driven, he formed a more song-driven rock/bluegrass ensemble, The Mosier Brothers band, performing at festivals, theaters, and private events throughout the region. Having shared the stage with such legends as Peter Rowan, Vassar Clements, Col. Bruce Hampton, Phish, Leftover Salmon, and Widespread Panic, Mosier has always been a versatile artist who is as comfortable performing on a stage full of musicians as he is playing solo. 
"Perhaps no guest artist has had as great an influence on the band's music as the Rev. Jeff Mosier..." -- The Phish Companion 
Currently, Mosier can be found performing around the country, occasionally joining projects such as the fully improvisational musical ensemble Everyone Orchestra or stalwart and vivacious The Grass Is Dead band. He is also very active playing shows, benefits, and festivals around his home base of Atlanta, as well as producing and recording in the studio.
Mosier's superb vocal mastery and unique banjo picking combine to deliver a special experience highlighting his original tunes as well as familiar traditional songs in novel arrangements. Whether traveling through acoustic ballads, thought-provoking and humorous banter, or high-energy bluegrass, each performance by Rev Jeff Mosier is a musical journey sending the listener on an enjoyable foot-tapping, mind-bending, and body-grooving jaunt down the road and back home again.